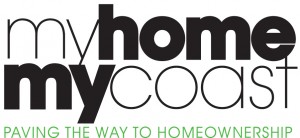 The My Home My Coast grant program has been getting a lot of attention lately, and unfortunately a lot of wrong information. If you are a current approved recipient of the My Home My Coast assistance, please contact us to have us go to work helping you find your new home.
Who is eligible?
A person/family who is not a current homeowner in the 6 eligible counties
A renter who wishes to own a home and has not owned a home in the past 6 months
A person displaced by Hurricane Katrina who wishes to buy a home in the 6 eligible counties
A new resident to the 6 eligible counties
An individual whose income is not more than 120% of median income as defined by HUD (see Chart)
What about participant support?
As part of the My Home My Coast program, participants will go through a class on home ownership, and counseling both before and after the purchase of their home. The My Home My Coast program is designed in a manner to help people own homes long term and provide counseling to help mitigate the possibilities of foreclosure.  This counseling is also designed to help participants with credit repair and is individually catered to each person to achieve the highest possible results.
How much money can you get?
The program is determined by each participants needs but offers up to a 40/60 value loan program. Local approved lending institutions fund as little as 40% of the loan while  the remaining (up to) 60% is provided through block grants as a 0% loan. Closing costs and downpayment assistance is also provided. Down payment assistance is determined based on participant's income to the Average Median Income (AMI) – See Chart.
Are there any other requirements?
The My Home My Coast program does require that you use specified lending institutions and closing agents when you buy your home. This list of "acceptable" suppliers is used to create a more seamless transaction as these suppliers are familiar with the unique way the program is handled.
Where do I go from here?
If you have already received My Home My Coast approval, contact us to help you find your new home. If you still need to apply, you can view the My Home My Coast website at MSGCRC.com. At the time of this writing, the My Home My Coast program is not taking additional applicants. I am in contact with the MSGCRC staff to get updated when this occurs. You can also call 1-888-49-Coast (888.492.6278).