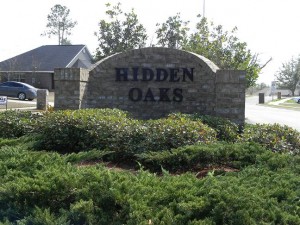 Hidden Oaks, Gulfport, MS is a reasonably priced entry to medium priced subdivision off Three Rivers Rd built by The Home Team. The subdivision is roughly a mile east of Three Rivers Elementary School which boasts baseball fields and a large walking track – the academics aren't half bad either 🙂
One appeal to Hidden Oaks Subdivision is that is has easy access to Hwy 49 for quick access to Gulfport shopping at Crossroads, the Factory Outlets, or Walmart Shopping complex, but is also very easy access to Hwy 605 which offers very quick access to Biloxi and D'Iberville as well and all that these areas have to offer.
At the time of this writing, Hidden Oaks has 18 Active listings, ranging in price from $92,000 to $209,000, square feet between 967 and 1780. Over the course of the last year,
there have been 21 closed homes, ranging in price from $89,900 to $179,500 with square feet between 967 and 1752.
Hidden Oaks has a high appeal because of its location – close to everything, but not right in the middle of anything. It also has a small playground for the little ones. It has had some negative attention do to some lower-priced homes across Three Rivers Rd from it, but this has not appeared to have effected sales or sales prices.
For more information on Hidden Oaks in Gulfport or any other real estate need on the Mississippi Coast, please contact me for more assistance.
Update 13 November 2013: Hidden Oaks has an active homeowners association with a website (click here)
Note that if you contact them and they try to connect you to a Realtor, let me know and I will remove the link to their HOA. To make sure your best interests are served when you are buying a home, you need your own representation. I have had problems with other HOAs directing contact information to agents who live in the area – which is never good for a buyer. Contact me to ask why!
We're sorry, but there's nothing to display here; MLS data service is not activated for this account.