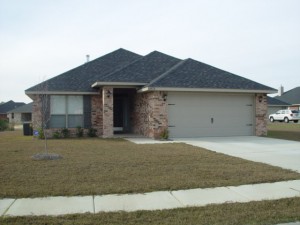 Canal Crossing is an Adams Homes subdivision located in Gulfport, MS north of the Interstate off Canal Rd. As with all Adams Homes subdivisions, Canal Crossing has shown strong sales across the board, even in a slow economy, and I feel that (again, much like their other subdivisions), Canal Crossing will show a good chance for appreciation in the coming years.
Adams Homes has a history of building an affordable home with good square footage for the price.  The picture is a representative sample of a home in Canal Crossing.
At the time of this writing, there is only 1 active listing on the Gulf Coast Association of Realtors Multiple Listing Service (MLS) and it is priced competitively at $141,400 for a well-equipped 1411 square feet home.  In the past 6 months, 10 homes have sold ranging from $121,900 (1147 sq ft) to $161,000 (2100 sq ft).
Canal Crossing currently has lots available for building as well. The agent at the model home is a representative of the builder. Be sure to contact me for buyer representation. It costs you no extra and I can generally help you save thousands of $$ and will look out for your interests solely in your home purchase. Contact me for more information on this subdivision or any other on the Mississippi Coast.
We're sorry, but there's nothing to display here; MLS data service is not activated for this account.