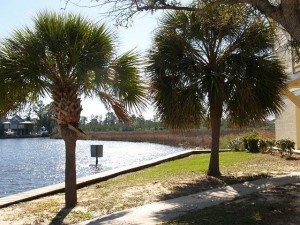 Palms overlooking the water at Harbor Landing
Harbor Landing Condos in Ocean Springs, MS is one of my favorite developments in the area currently for investment potential and positive appreciation potential over the coming years. When Harbor Landing Condos was originally developed, the units were pitched strongly to investors under Go Zone and other real estate investor benefits for the area. The problem at the onset was that with so many investors, it was hard to gain positive cash flow for the units. Compound that with the fact that many of these investors had very similar exit strategies, and it was a recipe for disaster.
The good news is that it is turning around at Harbor Landing Condos. While there are still foreclosures that are popping up here and there, and several short sales in the development, the prices are starting to edge upwards slightly. It is my professional opinion, that once these short sale and foreclosure units are done (probably another year, maybe two), this development will increase in appreciation very quickly.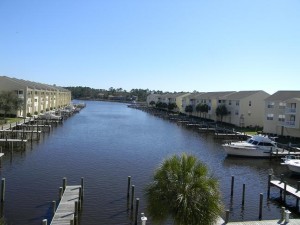 View from Building C top Balcony
Now is the time to buy whether you are looking for a primary home, a second home, or an investment property capable of producing a good return on investment over 3-5 years. Over the past 6 months (October 2010 to date), there have been 9 sold units at Harbor Landing ranging from $35k to $86k (breakdown below, organized by closing price):
B13 listed on 10/11/10, sold 12/29/10 for $35k, pictures depict reasonable condition
F13 listed on 10/18/10, sold 12/16/10 for $35k, pictures depict reasonable condition
B5 listed on 6/8/10, sold 10/13/10 for $39,500, no photos, no description. This unit most likely set the precedence for the above two.
F8 listed on 11/9/10, sold 12/20/10 for $44,900, pictures depict reasonable condition
B11 listed on 4/2/10, sold 10/6/10 for $51,975, pictures depict reasonable condition, view of parking lot and Elk's Lodge
F4 listed on 7/19/10, sold 3/16/11 for $52k, no photos, limited description
F10 listed on 7/23/10, sold 10/27/10 for $52,500, pictures depict reasonable condition
A21 listed on 11/4/10, sold 12/15/10 for $60,500, pictures depict reasonable condition
C3 listed on 2/15/11, sold 3/3/11 for $85,995, pictures depict reasonable condition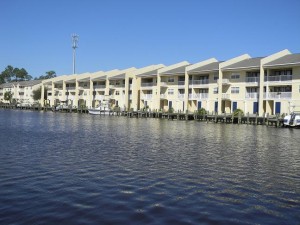 Another unit (foreclosure) was recently listed at $42,900 and put under contract within 5 days. While the listing agent could not comment on price, she was able to say it was "a great offer". It is obvious that this development is seeing some increased prices over the past 6 months. While the occasional foreclosure will spring up, units are selling for more.  There are a few properties on the market now, starting at just under $53k that are subject to bank approval of a short sale. One in particular (that I have personally seen) at $52, 712 which is doubtful to be on the market much longer. It is my opinion that prices under $50k will be very few moving forward unless they are units with extremely poor views or are in need of repair.
Contact me if you have questions about Harbor Landing Condos or any other area on the Mississippi Coast. I diligently research the market to help my clients get the best deals and make sure they are as protected as possible when buying!
UPDATE (21 April 2011)
It seems Real Estate Agents are having an increasingly difficult time doing their job. When contacting two different agents that control 5 of the 7 units that were listed under $100k to gain access and preview for clients, I was told that all 5 of them are under contract – they just have not done their job and removed them from Active status in the MLS. That being said, there is one unit available at Harbor Landing and one that may be coming available in the next few days. One is listed at $52,712 and has a view of the bayou and small "doggie park", the other is expected to come back on the market at $56,900 and is a marina facing unit that overlooks the marina.  The market is picking up VERY quickly out at Harbor Landing so let me know if you are ready to seriously look at either of these units. Both of these units are short sales and would be subject to final approval by lender. Cash offers will show much stronger and will typically be viewed as more favorable than financing, especially on the unit that is supposed to be coming back on the market soon.
We're sorry, but there's nothing to display here; MLS data service is not activated for this account.