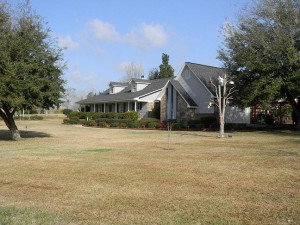 Robinwood Forest, located in Saucier, MS is a well-spread out community offering large lots (many in excess of an acre), protective covenants and amenities that include two large, stocked lakes that are great for swimming, fishing, or non-gas-powered boats.
Residents of Robinwood Forest have access to two large pavilions which are great for social gatherings and picnicking, but what many residents enjoy is the tranquil living and fishing. The lakes boast a variety of pan fish including large bream, catfish, and large-mouth bass. I have heard stories of over 30 pound catfish being caught and have personally seen a buddy of mine land a 10+ pound bass. Not being as fortunate, my largest bass caught there was around 6 pound with an average in the 2-4 pound range fishing from shore.
Architectural elements of homes in Robinwood Forest are varying from single-story brick ranch style homes to Acadian, and even colonial. There are some other interesting architectural elements in other homes as well. Most homes in the area are owner-occupied and have a high pride of ownership. It is not uncommon to drive through on a Saturday during the summer and see many homeowners out landscaping, mowing grass, or planting new trees.
Robinwood Forest has many homes averaging in the $200k-$300k range but deals can be found occasionally through foreclosures, although very few and far between. There are currently 5 active home listings ranging in price from $125k-$210k and square footage between 1406 and 3920. Note that the 3920 square foot home had Chinese drywall installed when it was built and needs to be replaced to make it an exquisite home. Over the past year, there were 7 closed home sales between $152,400 and $300k with square footage between 1900 and 3174.
If you are looking to buy or a sell a home anywhere on the coast, please contact me – I love helping people with their real estate needs!
We're sorry, but there's nothing to display here; MLS data service is not activated for this account.